(anti-)Fashion Label
Livia Rita creates a smaller fashion collection for each of the songs for her forthcoming album, resulting in a bigger collection which will be launched beginning of 2019. The collections are used for the music videos of correlating song and are also used in live performances. Photography of the outfits are combined with the relevant lyrics to add up to a magazine.

Livia Rita is also creating some 'wearable' fashion for future collections which will be sold as merchandise, but would like to define her place in the world of fashion:

first show at London Fashion week
Livia Rita shared a collection called MODERN WITCHES at the V&A Museum of Childhood on 21st September at London Fashion Week, as part of London Queer Fashion Show.


About the collection 'MODERN WITCHES'

Witches, nymphs, sirens, mermaids, gorgons, harpies, sphinxes... these fantastical creatures – chased, villainised and hunted – are at the heart of feminine energy. My work explores the wonderful and mystical; it goes beyond the boundaries of humanity and returns instead to the historic power of the creature. These awesome beings inspire a new kind of femininity; one that reclaims and reinvents the strength and beauty of the feminine.

This collection combines outfits from DEAD ANGEL, SUNSCAR with unseen ones from the forthcoming singles EXPIRED CRYSTAL and MAGIC FISH.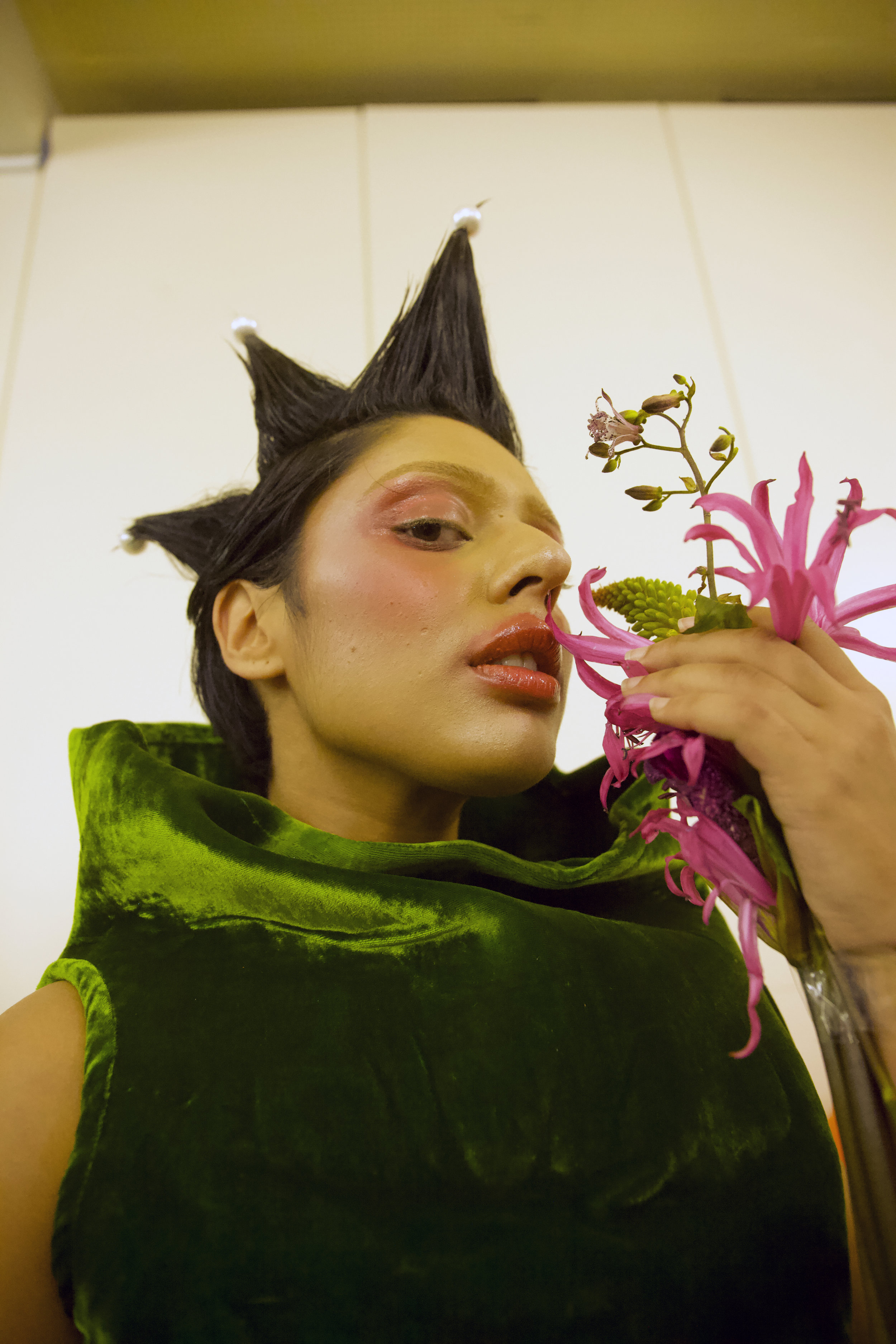 The members of the gang involved in this crime to mediocracy and mundanity were:
Models: Toya Delazy, Dani Olden, Shiri Shaba, Danni Spooner, Eve Stainton, Tajah Hamilton, Jordan Gray, Becky Strauch, Anka Dawbrowska
Photos by Julia Hovve
Fitting and Collection Development with Sarah Louise Renwick
Floral collaboration with Alice McCabe
Production Claudia Graham
Choreography with Taylor Danson
Hair and MUA by Mastered with Imani Naghten
Jewellery
Props Erin Tse


For this Fashion show, Livia Rita was supported by the Swiss Cultural Fund UK, thank you!
Thank you for the support with starting the label, Kulturförderung Toggenburg!
'Heart Tattoo' collection launch at Vogue Fabrics, Dalston
Photos by Yasmine Akim
Set with Tom Schneider
The team
Sian Dormant
Texture Designer & Maker, Master of Latex & unusual textures
Sarah Louise Renwick
Master of patterns & sewing
Diana Burch
Texture Designer & Maker

Eleanor Tipler
Master of Sewing
Olivia Rose
Make-up
Imani Naghten
Make-up & Hair

Diandra Ferreira
Make-up & Hair
Daniella Dahoui
Jewellery Making

Jack Needell
Set Design